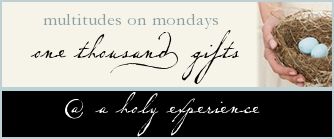 JOY.
I want more joy. Don't you? And, I find as thankfulness increases, so does joy.
To implement my attitude of gratitude, I have decided to join a Gratitude Community. Meaning? I am on a mission to jot down 10 things that I am thankful for every week. Until I reach the thousand mark.
Intentional? You got it! I am going to start the week off rightly-aligned -- tongue, thoughts, heart, focus.
You will find my list here. Yes, I am making it public because then
you
can hold me accountable that way. Please join me! Follow the link at the top to get started...
Joy in and from Jesus,
1000. giving thanks is the secret to enjoy anything --
finished but not really... counting graces is an addictive necessity
999. rainbows slow your pace
998. didgeridoo
997. anticipating Jesus' return is my greatest desire
996. all is grace
995. God's peace is palpable
994. times set aside to still and reflect on Christ
993. dread is dead
992. new board games are fun for us
991. 1000 little jigsaw puzzle pieces
990. the blogs of missionaries
989. Greek yogurt as whip cream or mayo or sour cream or...
988. the collective light that glows from numerous candles being lit together
987. energy + wisdom
986. kid-laughter erupting from tickling or chasing
985. swinging ornaments
984. snow is slippery
983. joy is only a divine gift, not fund in anything made by humans
982. a hot chocolate alternative called Snow White Delight
981. warm, cozy, full cars
980. knowing God is in control
979. extra pens
978. arriving right when meltdowns start
977. motors are mysteries
976. singing loud the 12 days of Christmas
975. writing letters to friends
974. how time is not a respecter of persons
973. glitter glue and how it dries
972. musical notes
971. how my hubby handles conflict and cynicism from others
970. counting is fun... still ;)
969. not being accountable for people taking the help you offer
968. time helps cool emotions
967. the truth must be told
966. cute, little travel items (and baby animals, too, for that matter)
965. lingering looks
964. body heat
963. trying new food
962. waking up to my daughter's first drawing of people
961. when clarification is a good thing, and not always excuse-making
960. solutions that just might help
959. visibly touching hearts
958. watching my kids eat vegetables ;)
957. bread, pasta, rice, potatoes, rolls, muffins, biscuits...
956. enzyme surplus
955. "Playing outside"
954. "Banana pudding"
953. "Grandma that can cook"
952. "Football"
951. "Jacob, Lindsay, Kylie, and Caroline"
950. "House and school"
949. "Jobs"
948. "Quiet book"
947. "Going on a trip"
946. "Tea party"
945. "Puzzle & legos"
944. "Bible"
943. "Dominick the Donkey"
942. "Jesus"
941. "Papa"
940. "Ms. Tracy"
939. "Baking muffins"
938. "Milk"
937. "Church"
936. "Carriage ride & Woofie"
935. "Nonna, Grandpa, Tuesday"
934. "Daddy"
933. "Sarah-Bear"
932. "Grandma"
931. "Mommy"
930. "Avalynn"
929. "Micaiah"
928. "Aolani"
for the month of November, I will post what we as a family are thankul for and writing on leaves
927. smushing blobs of play-doh
926. being thankful is a gift in itself
925. moving ahead, avoids stagnancy and questioning and confusion
924. new fish
923. spirals don't have to be scary but fun depending on perspective
922. a little quiet to hear my own voice
921. just breathing and looking up = a great cure-all
920. randomness, a delight from living life together
919. desiring peace and harmony
918. hot ginseng tea on a brisk autumn night
917. fairy tales -- ones I remember and ones new to me
916. a new season of Studio C
915. life in community is vital for overall well-being
914. the word
'gunk'
913. waking up to my son brushing my hair and giggling
912. public libraries
911. my daughter got up by herself at 5:20 a.m. to go potty (!)
910. accidents are adventures and can be downright funny
909. meat to explore
908. friends to the friendless
907. my last mint oreo milkshake
906. finding more to give
905. watching the Church give and share
904. being ready for the "going-all-out" to be over
903. new shoes for the kids
902. the family joy from the new bunk beds
901. my mom is visiting while the hubby is out-of-town working
900. homeschool preschool begins today
899. ketchup makes food palatable for my little toddler
898. watching kids in a pool
897. free consultations
896. obstacle courses and games of opposites
895. homemade chocolate and banana ice-cream
894. unexpected prayers
893. self-pay discounts
892. life is easier the firmer faith is
891. balancing truth and grace is so hard
890. new toothbrushes
889.
all of Pedro's funds have been raised
888. reading from people all across the globe
887. sidewalk chalk is washable
886. REM sleep
885. mental clarity, a long, lost friend
884. a sick child that falls asleep on my chest -- so sweet to treasure
883. warnings help toddlers
882. a cool bath brought my toddler's fever down a lot
881. gagging but the food stays down
880. watching my hubby get elated over my mother coming to visit
879. the end is in sight
878. who knew that a watermelon could elicit dancing-joy?!
877. asking
876. a lap, a book, two toddlers, and cuddles
875. rubbing clean toddler hair
874. returning emails -- phew!
873. my hubby declared yesterday as "MVP" day (and I was our family's "MVP")
872. time frames or windows
871. the house smells so good when the crock pot is on
870. a mostly-empty laundry basket
869. friends that eagerly help (
of course
mentality)
868. favors that unexpectedly granted
867. when you see the fruit (of your deeds) coming
866. my older-toddler suddenly loves to press her face against mine
865. knowing what you have to figure out and deal with
864. a bubble-free computer screen
863. a bag of raw almonds that just keeps on going
862. getting that prized 11 p.m.-1 a.m. sleep
861. a full trash can getting emptied
860. my older toddler helps me wake my hubby up in the mornings (and it is a
job for two
!)
859. plain ol' not-knowing, makes it easy to rely on grace
858. having fresh aloe vera on hand
857. my older toddler's knowledge and understanding and memory
daily
amaze me
856. giving away potential money-making gifts
855. free-range chicken broth and eggs
854. being flabbergasted
853. pondering and waiting, contentedly
852. friends that come quickly and willingly
851. childproof scissors are genius
850. when the storm clouds roll in during nap time and make it extra dark
849. floating in His confident love
848. shared experiences and the automatic bond they form
847. anticipation over the "what next?"
846. my toddlers' first up close and personal "mow show"
845. watching my kids just melt with desire over Daddy -- his time, energy, attention, and affection
844. being able to move the start-menu bar on the computer
843. putting
lentil and rice casserole
in tortilla shells changes the ball game
842. when the house is neat before nap time
841. washcloths aplenty
840. the chubby, squishy, soft, round, oh-so-tiny newborn baby
839. tacos and chips and salsa and celery and peanut butter and tea and caring friends
838. I am blessed, so I can bless
837. just simple, pleasant visits
836. trusting the Unshakable One and receiving unshakable faith
835. unsolicited hugs
834. feeling my older toddler's cold hands rub my back
833. praising God in storms
832. easy complications
831. clean hair frizzes
830. when the truth hurts
829. the return of my handheld recorder
828. stories that split you right open
827. having all we need in Christ
826. when sleep closes in and your body tremors as it shuts down
825. watching a DVD of a recent relative's comedic play
824. versatility, the word and the meaning
823. summer fruit is coming!
822. the many different ways to make a cucumber sandwich
821. older friends who have grandkids that are the same age as my kids
820. apple green peelers
819. ideas that may not be too late
818. baked potato skin, oiled and salted
817. blessing others through food
816. after two days my toddler has memorized her first verse
815. a long book broken down into parts
814. knowing that He hears and I am heard
813. picking up trash around the house
812. God seems to keep one of us strong when the other falters
811. people used to speech problems understand me (so nice)
810. happy tears from seeing a circle come together, and understanding
809. hearing His voice in my dark, quiet bedroom
808. the sheer delight on lil' faces when a new physical feat has been accomplished
807. my lil' toddler just loves being on my lap and reading to him
806. oil-pulling prevented me from verbalizing my frustration
805. feeling the sun being absorbed into your skin
804. sleeping beside a lil' snuggle bunny
803. toddler copycat games are so adorable
802. my big toddler hugs and tries to pick up the lil' toddler
801.
this article
about where your children rank
800. when there are needs perfectly matching your gifts
799. wiping off dirty tractor wheels
798. when my hubby gets called to work in another city
797. my toddler remembering her brother's baby pumpkin from last Fall
796. the fast-moving mind
795. a wooden carrying case
794. friends with sewing machines
793. the fragility of a child's emotional well-being
792. when God uses dreams to reveal and heal
791. my lungs, not struggling to inhale
790. Jesus rescued me by offering
hope
-- for change, for newness, for freedom from slavery to self, for a future, for eternity, for restored beauty
789. a kid shoe bin
788. inheriting skills and ethics that make life easier
787. an unexpected compliment
786. soft, pink mittens knitted for my girl
785. dreams that just might answer prayer requests
784. the spinning, screaming, running -- open hands -- of little ones over a new fence
783. it is harder to hide your emotions when you are pregnant
782. new clothes, including a perfect everyday dress, for my big toddler
781. Sky-scraper trees
780. pastel fabric in the Springtime (coming around the bend)
779. on top or stuck or sinking or face-down in the muddy, dark trench -- He is there, in God I trust
778. when avocados cream a smoothie
777. unplanned talks that carry into the wee morning hours
776.
Josh Garrels
-- 5 free (
outstanding and addicting
) albums until March 28
775. the word
juicy
774. sorting internally with prayer
773. clouds outside of me
772. researching, ordering, planning preschool curriculum for my firstborn
771. watching dirt and crumbs being swept up
770. saying no to fear because of faith
769.
Phil. 3;10 --
"
I want to know Christ...
"
768. exalting Grace, the Person, in desperation
767. God-ordained meetings, that also provide confirmation
766. I can reach the stove knobs
765. the skillet popping with coconut oil
764. hearing my three-year-old tell me what she likes
763. dreamy, sleepy grins
762. toddler feet sounding off pitter-patter
761. more copy paper is in transit
760. going with the flow
759. Salmon melts
758. typing and printing versus handwriting, the pros of each
757. Veggietales and Raffi
756. my kids love sugar and chocolate
755. my toddler is an attentive sponge
754. my baby really wants me to gloat over him when he is standing unassisted
753. 24-hour helium balloons still floating two weeks later
752. chocolate eyes melt me like chocolate
751. the faint baby smell breathed in when nestling against his ear
750. singing
No More Monkeys Jumping on the Bed
with my toddler
749. the thick ink flow out of a new pen
748. oily, salty baked potato skin -- yum
747. remembering previously-forgotten things (by His gracious Spirit)
746. books, books, books -- old, new, used, borrowed, poetry, fiction, real-life, hard, soft, thin, chunky...
745. extra energy on the changing table (not my own!)
744. polite responses are gentler on the soul
743. saying no to the text message beep
742. making homemade products gives me a thrill
741. dainty white curtain on the kitchen window
740. catching my toddler dozing on her potty
739. eagerness to help out and love those with less
738. baby powder
737. my Rescuer, stands alert and strong, is ready and waiting
736. knowing that you are nearing the end of your rope ("self")
735. anticipating cream cheese frosting
734. free air purifiers
733. inviting friendly strangers in your home
732. spray vitamins -- talk about fast release
731. pink on a little girl is sweet
730. paychecks in the mail
729. past reactions and experiences seen in the present look different
728.
Where I Belong
by Building 429
727. a sink drain boasting of clean dishes
726. wrinkles that fall out of clothes over time
725. a watercolor portrait of Micaiah, painted by an old neighbor
724. clear water that just looks fresh
723. my marriage might never have been, except by His plan
722. the great gain of godliness with contentment
721. a toddler's developing language is very humorous at times
720. when obedience wins (!)
719. a nice pair of too-small jeans given away
718.
"Oh no, You never let go"
717. excitement over the sun being tired because that means Daddy comes home soon
716. melted cheese hits the spot
715. my baby just wants to be included
714. buy one get one free specials
713. receiving unsolicited love from my toddler
712. three dozen free-range eggs from my friend with happy chickens
711. keeping
this game
in my purse, for when there is an "emergency" ;)
710. singing along to
this
709. lunches and meals for a week, from a good-cook-friend
708. I want Him, and He wants me
707. crinkle paper
706. striped and fuzzy reindeer zipper jammies
705. decorated Christmas cookies received, my toddler's first
704. crockpot stews that spread warm, tasty aromas throughout the house for hours
703. tight hugs from random strangers with kindred hearts
702. blood smears on busted lips and tender cries
701. an unexpected brisk gust on a cloudy day
700. bear hugs at night, holding her close and hearing her squeeze
699. wind chimes at the back door, just audible in the kitchen
698. windy, but sunny, days
697. my hubby calls my blue eyes silver when I am upset
696. poems written between lovers
695. gourmet cupcakes with too-much frosting
694. laying down any crowns of mine before the Only-Crown-Worthy-One
693. little kids' eyes are so crystal clear and bright
692. getting my wedding ring cleaned to sparkling
691. a marshmellow coat
690. my standing baby in little, fuzzy boots
689. a big bib with a little velcro now fits
688. it is utterly astonishing how Jesus loves me no. matter. what.
687. tights -- red, white, black, and hot pink
686. tears, sweet and soft and humble
685. the Word comes to life by the illuminating power of the Spirit, when He wills it
684. my kids do a giggle-tag in the backseat of the car
683. my hubby hasn't walked out on me, when that is what I deserve
682. bonds of Spirit are stronger than bonds of blood
681. the five kernels of corn allotted to each pilgrim during their days of famine
680.
Proverbs 29:20
-- I'll let you guess
679. hearing my toddler count houses, point out fat cows and fast horses and red leaves, and sing while we drive
678. cold almond milk sipped after a melty chocolate chip cookie
677. watching my neighbors come and go from my window while I change diapers
676. not having to hide my Bible (and being able to read it
publicly without fear
)
675. being handed my newborn with an unexpected birthmark on his face -- and melting!
674. bread and butter -- what a match!
673. self-hatred and self-rejection are still rooted in pride, narcissism, and self-obsession
672. this holiday shirt of mine that I have worn to every party since before marriage
671. the first chicken pot pie I really enjoyed enough to want it again
670. my hubby and I, together, have a hallowed union
669. our baby and big pumpkins by our door (and our flowers, too) -- seems like an abundance
668. in Christ, I can lay hold of God's promise for a future of hope with my Bridegroom
667. my toddler's fascination,
enthrallment
, over a glow-in-the-dark wand
666. that 10 minutes of silence when my toddler is down for a nap and my baby sucks his thumb on my lap while we sit in the sun
665. when my friend comes over to help prepare one meal and we end up with three meals
664. my hubby, the I-only-cook-cereal male, has transformed into the family-chef
663. our family is so unconventional to the eye (we always get a second glance and are remembered)
662. when court unexpectedly gets out midday and I have help for nap time
661. cutting gourmet cupcakes so everyone gets a taste and we can all talk about the flavor
660. my toddler is gaining more and more friends
659. God answering my prayers without my help ("intrusion")
658. lying awake in bed for hours
657. baking asparagus for the first time (and my hubby wanting to do it again)
656. He is able to redeem the pointless and wasted
655. when something is returned you forgot about loaning
654. sowing into other's worldwide ministries (
sowing in the Spirit
)
653. catching a ball thrown by my toddler (in my lap...)
652. watching a leaf detach from its home, spiral and twirl this way and that, and feel tension ease
651. baby pajamas that read
Cutest Pumpkin in the Patch
(and it's true!)
650. asking questions conveys concern
649. due dates are not fixed
648. the freckles on my nose keep multiplying, to where I don't even recognize it
647. my toddler and I simultaneously feed each other prunes
646. this super-neat
wooden play-fruit set
that gets used daily
645. my hubby drew a portrait of me laughing in our dating days
644. starting a book, the yet-to-discover ideas
643. Proverbs 30:1 -- ..."I am weary, God, but I can prevail"... by Your strength, LORD...
642. trying unsuccessfully just to hold my arms out straight
641. the baby boy continues drawing those knees up, rocking and thrusting, trying so hard to go forward
640. a precious painting from my hubby on our first anniversary that reads, "I give my life to you" in several different languages
639. homemade bowling alleys and cheers, regardless of pins falling
638. whispers that tickle the ears
637. growing in the greatness of grace freely offered each moment
636. a slight crispness to the morning air makes me smile in anticipation
635. casseroles straight out of the oven keep warm while all the rest of dinner comes together
634. our bedroom is cool, dark haven that is perfect for slumber under down comforters
633. the soft, yellow stick of butter
632. the bouquet sent and left here that lasted a week on our kitchen table
631. watermelon juice dripping down chins
630. the miracle of a life -- forming and growing in a woman's body -- is absolutely beyond grasp
629. when an anticipated visit doesn't leave you feeling disappointed
628. no bugs are sneaking around with toddler-zoom-eyes
627. this glass ball with colorful polka dots, a honeymoon memento
626. there is no running in toddler-speak, only
running fast
625. the dew on the grass each morning is new
624. our purple and green couch -- an old giveaway
623. the sun rises on the opposite side of the house from where our bedroom window faces
622. I can wash a load of laundry easily and quickly -- no tub or scrub necessary
621. new faces, young ones, appearing at church
620. an unexpected, brief shoulder rub from a friend
619. lying in bed alone for ten minutes in the morning while my hubby changes and dresses the kiddos
618. watching my baby become more alert, interactive, and giggly around his sister mesmerizes my heart
617. my belly (*blush*) is a love offering to Jesus for the lives it has grown -- it is hard to be thankful for the loose skin and extra cushion, but when I remember why, I cannot help but thank God!
616. a clock (that is designed as a golden sun) that I had on my bedroom wall in high school adorns our living room wall to this day
615. prayer pillows shoved halfway under the couch and prayed on by dolls
614. these bibs for toddlers are the best (I call them "troughs")
613. a metal pencil cup holder on our kitchen table that doesn't hold any writing utensils
612. my toddler's disobedience calls me to see my own sin, desperately pray for grace, and respond accordingly in love
611. hard-boiled eggs, plain or mashed into egg salad
610. when other families anticipate a summer vacation at the beach
609.
Proverbs 16:3
and remembering to roll
608.
this story
ignites the fire in me
607. my dad got our
water filter
put on our sink, and it is super-nice
606. my toddler daily practices headstands
605. when my neighbor gets to flirt with the baby boy in the driveway
604. sheer curtains make it feel like springtime year-round
603. sitting in
Melchizedek
feels secure (but not as secure as the real Melchizidek is!)
602. my baby eats
all
of the baby food we buy -- no waste :)
601. the lily-white skin of my nieces
600. trying to rinse out a poopy potty with a grabby-reachy baby on lap and keep all safe and sanitary
599. family dinners of shared silence, thanks, insights, debriefing, humor, glances, and a meal
598. getting sidetracked while unwinding
597. that
crisp-y
sound of biting into a fresh apple
596. when pregnancies end with a triumphant arrival of new life
595. Chinese believers that preach while imprisoned for Christ
594. my brother use to bury me in the sand at the beach when we were young
593. when my hubby teaches our daughter to repeat "Mommy is sexy" -- boy, do I blush
592. this story of '
Eric the Eel
' makes my heart smile
591. a really long shadow from a tree across the way
590. baked sweet potatoes (toppings, too)
589. Trip Lee's two-song album,
Brag On My Lord
, has been on repeat around here for weeks
588. delicate glass balls that hang down from ceilings and reflect light and color
587. a fresh puzzle looks broken
586. everywhere you go in Ireland there are short, stone walls that take the place of fences
585. my toddler's hair while she runs through the sprinkler
584. bibs the color of sunshine
583. glass jars with corks and possibilities
582. feeling like a princess every time he carries me
581.
116 Clique
's rap lyrics always keep me reeling
580. having extra water on hand to be able to give away
579. my toddler will run and find me just to tell me (loudly) that
Daddy-ome!
578. inviting friends over until they come
577. food coloring in water is captivating, especially before you stir it
576. a hand-me-down red, white, and blue outfit
575. I can read my Bible in public without fear
574. our parents are always working on our behalf
573. grace and mercy working together, like two peas in a pod
572.
just this book
571. wriggling under the covers makes me giggle
570. remembering to make an extra smoothie for a dear friend who really enjoys them
569. when we actually get the toddler to bed on time, we feel... good (this is a rarity)
568. my little baby boy's rear
567. big rigatoni pasta
566. cherries, given to us by friends (and watching my toddler swallow a seed as I try to teach her to spit it out)
565. squishy, knit 'people' turned into baseballs
564. a beautiful "I AM" poster from the
Creation Museum
that reminds us of a few of His titles
563. the
marriage mission statement
we created during our premarital counseling retreat, framed and hung above our sacred bed
562. my wheelchair's "happy flap"
561. swimsuit material and my homemade baby wearer
560. my hubby's extended family members have such good senses of humor
559. my wonderful, homemade
baby bands
(and the treasure of a woman who sewed them for me)
558. still being able to bend over and pick up a toy off of the floor
557. winks, unexpected and affectionate
556. my body provides nourishment to everyone in my family
555. my earthly daddy and I are so similar that we can sometimes communicate through thought
554. my baby will quickly move his head to and fro trying to follow his sister with his eyes
553. the smell of my clean baby lingers for days
552. full diaper pails (because that means that my hubby will have to empty it soon!)
551. I once saw this painting of Jesus' eyes that I will never forget -- piercing, mesmerizing, and full of compassion
550. anticipating date night and relaxing
549. an empty refrigerator is satisfying
548. ripped pages in a book equals much love and can usuallly be taped
547. a full diaper pail waiting to be emptied
546. failure doesn't matter when embraced by Grace
545. my hubby bringing home edible treats
544. waiting for adult conversation
543. I can boast in Jesus' perfect record which is mine
542. the humor shared just by joining in a toddler's laughter
541. a brightly-colored child's plate that is just the right size
540. a dirty sleeper that is new and big and has no holes!
539. a clear bead that holds memories
538. a brushing back of curls and unintelligible whispers
537. magnetic wreath hanger for metal doors
536. there is stillness, hard to find, in the dark
535. facial imperfections, like marks or scars or crooked smiles, only makes you look all the better
534. a sweet sip after salty chips
533. my toddler played sweetly in her crib for a while this morning while I showered
532.
difficult
people only reveal my own shortcomings, pettiness, and desperate need for a Savior
531. too much curry is okay by me
530. when my mama lovingly strokes my face with her cool hand, my breathing becomes deeper, I ache less, my mind stills, and I am soothed
529. my mama's eyes dance and her heart warms when I laugh
528. just hearing my mama's voice relaxes my whole body
527. my mama will do whatever she needs to do to be there for me
526. my mama makes laying down your life to serve your family seem so easy
525. my mama can win people over with her charm
524. being practical (almost as much as me) does not dampen my mama's fun-loving nature
523. I can say (or not even speak) whatever I want and not have to worry about it because my mama loves me
unconditionally
522. I notice my mama's submission to my dad a lot more now that I'm married
521.
by far, the thing I am most thankful for is that my mama and I get to be together forever because of Christ (praise God for softening our hearts enough so that we could receive the grace of God offered to us through Jesus)!
520. my hubby's fingers gliding over the keyboard ever-so-quickly
519. wood, smooth, is classy
518. my toddler unknowingly smacking two eggs together
517. I will never be able to understand or experience the depths and riches and layers of Jesus' grace
516. the
Abba
song on this album
515. safety when you aren't looking for a safe haven
514. the presence of the Spirit empowering me to live love(d)
513. trying to hold the moment by inhaling deeply
512. feeling the deep, penetrating soul-gaze inside me of my Jesus-Love
511. feeling soft baby fuzz on my nose
510. realizing all is well with my decisions
509. shoe towers that almost stay put
508. pillows actually crafted by beloved people around the world
507. hand-stitched blankets from grandparents (in-laws, treating me as their own)
506. time, not wanting to rush it or miss it or waste it
505. it is so neat to read history recorded in detail
504. puffy clouds, and the word "puffy"
503. sunbeams hit you for the first time of the day -- whoa
502. wondering about maternity-clothes etiquette
501. when flower pots line a staircase
500. a surprise package of random goodies that reminds me of my college-days
499. nighttime cuddles
498. how my baby tries so hard to sit up
497. my mom's willingness to slave in the kitchen whipping up my delicious food-orders
496. hidden packages, safely delivered and not stolen
495. when naps align and there is even a brief few minutes of silence
494. when one verse after another after another hits me with wave after wave of wonderment
493. discovering which goofy expressions elicit the hiccup-inducing giggles
492. free clothes hangers
491. a foreign coin that holds gratitude in it
490. leaving the house for a date with my hubby without the kids for the first time since ?
489. filling the "Resurrection" eggs with treats for a first hunt
488. my toddler's fingers intertwine with my own for the first time
487. the book of
Ephesians
just blows my mind with depth and goodness
486. sighing and smiling when my tired, cold body hits the warmed-up sheets of our bed at night
485. laughing just to ease the tension
484. cheddar cheese and smoked salmon on crackers -- who knew?!
483. a round, red ball that is just as fun when it is thrown for the thousandth time
482. when she understands waiting
481. pre-washed, new clothes for the kids from the grandmommas
480. when I give thanks to someone, with no response, keep on thankin'
479. when three bad circumstances align, for a reason
478. when my heart is vulnerable and 'out there'
477. the rumble of thunder during nap time
476. how my toddler only wants Grandma to make her play-doh balls
475. napkins, simple and plain and white
474. a purple bowl of water is
ooohhhaahhh
473. when the gusts of wind don't let up and make my spirit soar and laugh
472. learning all about myself while reading a book supposedly about my daughter
471. Jesus gave me His Spirit to live in me and encourage me
470. simple eye contact elicits huge grins and dimples and gurgles
469. when she laughs just to join in on the parents' joke
468. how in the world does my baby sleep through my toddler's deafening screams?
467. the color of iced cranberry juice
466. a torn ribbon by which an ornament hangs, causing it to find a new home
465. going through the trash to find the lamp switch that my daughter ripped off and misplaced (recovered now)
464. my butter fingers that repeatedly drop any and every thing I hold
463. socks that meet all my specific criteria
462. pre-washed spinach -- quick, healthy, good in (almost) every dish
461. a toddler begging for a nap
460. freshly mopped floors
459. how my toddler giggles at her reflection in the kitchen trash can lid
458. how God led me to and helped me through college in another state, away from family and friends
457. work in another county means making new friends
456. shoes that don't hurt my daughter's pudgy feet
455. the kitchen counters are not back-saver height
454. a poopy diaper for the hubby to tend to
453. my old crib, remodeled, keeps my two babies
452.
this glass-bottled ginger ale
451. an early arrival makes an early lunch
450. snowfall, whatever amount, always gets people talking
449. dinner that tastes yummy leaves unappetizing counters
448. morning-made lunch in the fridge
447. dirty clothes are part of the plan
446. grinning, bearing, praising
445. finding trash to throw away
444. an unexpected package with no note
443. a silent, grateful look
442. making old and new musical rhymes to lull my baby
441. laughing at my scrawl while writing thank you notes
440. fresh stickers to entertain (and a bulb syringe)
439. I feel loved by God when I look at Ricky and wonder why God gave him to me
438. when my toddler gets caught painting the walls
with grease
437. my kids were able to sleep some without Daddy and in a strange place
436. simplifying my meal planning by planning monthly versus weekly
435. humming while hanging wet laundry
434. what would I do without Microsoft Excel?
433. watching my toddler cover her mouth while laughing
432. dark chocolate surprises
431. when my toddler falls down, giggling, from twirling too much
430. how my toddler somehow knows when it is Sunday and what treats to expect
429. older kids keeping my toddler busy and exerting energy
428. when you invent usages of broken items to keep them functionable
427. a Ladybug costume complete with wings and antennas
426. when a wintry day does not require a coat
pins
424. the arms on my wheelchair are so helpful
423. an unexpected postcard from a not-so-secret admirer
422. my hubby's intentional acts of adoration
421. the Superbowl is shown live on the internet
420. when my hubby surprises me with historic fictional stories
419. Lecrae's music and lyrics are just as addictive now as when I first heard him
418. my adorable children compensate for my personality flaws
417. hearing my daughter repeat "Mommy" for five minutes after two years of not having a name
416. help hanging laundry at night
415. a morning foot rub
414. an extra long nap from my baby while my toddler needed my full attention
413. white elephant gifts that are actually useful
412. a cheap mini-stapler that has lasted a decade and is still going
411. the submission of Christ to His Daddy
410. an offer of help exactly fitting my prayers
409. my hubby's joy-filled eyes on our wedding day
408. the vastness of the sky that stills
407. real oven dishes inside play kitchen oven
405. family discussions
404. my daughter fist bumping my newborn
403. a friend giving "horsey rides" to all of my daughter's stuffed animals, dolls, books, and other toys
402. hanging new pictures to captivate
401. women who share their sewing talents
400. His timing that has the right people in the right place at the right time
399. my baby's first coos and yelps
398. hardwood floors that let me get around easily
397. butter -- hard, soft, or melted
396. my hubby taking the kids some mornings so I can get more sleep
392. calming my baby boy by rubbing his back
394. feeding my daughter cherries
393. our wide and long hand-me-down couch
391. my hubby finds me more attractive now than before children
390. my digital camera is not great quality, but it works and was free
389. I can believe that the Word of God is alive and active in me, even when I don't think so
388. how Aolani pokes her lip out and acts sad when I cry
387. watching people sway and swing as they dance
386.
Foxe's Book of Martyrs
385. an extra baby book, ready to use
384. gift cards are so practical -- the best
383. overhearing my hubby boast of my abilities to another
382. meals gifted, free, and warm
381. my maternal instinct
380. stair gates
379. foods that toddlers can feed themselves
378. surprising family with the unexpected
377. awestruck by a lot of good news
376. cold ice cream in a big mug on a hot summer day
375. refreshing conversations with friends
374. cute babies can get away with anything
373. God's plans far surpass my own
372. accessible hotel rooms and showers
371. tough hair that "replaces" screws
370. rediscovering trinkets that have been forgotten
369. when cousins hug and play
368. every moment and breath of my life is dependent upon Easter, what happened, and what it means -- this is why we are the Easter people
367. biting the bullet and pulling the trigger
365. designations can be fun
364. my baby's constant excitement and thrills
363. black-out curtains let me take daytime naps
362. brown sauce on Chinese food
361. when things fit and fall into place
360. countdowns
359. not giving up before consistency pays off
358. chubby hands pulling brown ringlets
357. my baby likes to play on and near my wheelchair
356. pink flamingos
355. plenty of help from family and friends
354. long naps that give enough time for errands
353. unexpected reasons to hope
351. chocolate, hot tea, late night conversations
350. when a growing list of things to do or buy stops growing
349. while magicjacks are not perfect, they are a good, inexpensive alternative to landlines
348. bulletin boards can hold all that loose, little stuff cluttering my desk
347. my flirty baby makes strangers feel good
346. thermometers that don't go too high
345. having a handy-man for a father
344. secrets
342. tropical colors brighten my spirits
341. clear push pins
340. different styles and lengths of hugs
339. letter openers and stamps
338. what I can do
337. our big, spacious van with seats that fold into the floor
336. prunes do not have to be refrigerated
335. every stumbling is usable
334. everyday is one step closer... to goals... to adventures... to
my real home with my real Jesus
333. familiarity is calming
332. my hubby resting - head back, eyes closed
331.
IKEA
makes my life simpler
330. of created beings,
nothing
beats a mother
329. "rabbit trails" that pay off
328. meeting neighbors and chatting under the sun
327. the delight of finding products made in the USA
326. freecycle groups, that support giving and sharing, make me smile
325. finding neat websites like
http://www.vitacost.com/
and
http://www.tenthousandvillages.com/
324. babies bring delight to the old
323. the pendulum swing of encouragement between spouses
322. patience really is a virtue
321. those rare, good finds on craigslist
320. showers offer new perspectives and attitudes
319. laughing at my embarrassing self (daily)
317. the
Tiny Bear's Bible
316. when the house is quiet and my hubby and I can read together
315. a highly-adaptable baby
314. sunshine both regenerates and zaps your energy
313. when butter melts on warm bread
312. an uninterrupted night of sleep
311. watching my hubby gives his baby a mini neck massage
310. getting the mail, leisurely
309. opening the shades on a sunny day to let the light pour in and transform rooms and demeanors
308. Sunday evenings are just right for popcorn
307. ability to rest in His care
306. unexpected visits from friends and conversations with neighbors
305. Voice of the Martyrs stories that help me to realign my focus
304. feeding my baby food we are eating
303. bread bowls that are chewy, fluffy, and tough
302. discovering birth marks for the first time
301. smooth skin
300. sun warmth on your face and gentle breeze in your hair, while eating
299. God whispers to your heart the same thing, all day
298. reading while eating chocolate and listening to Lecrae
297. my baby adapts really well
296. He knows my thoughts even before I think them!
295. finishing filing taxes is so relieving
294. when He answers with clarity
293. ripe, red, sweet, juicy strawberries smeared all over
292. breaking even
291. reusing the blank side of paper
290. last year it was snow, this year it is flip-flops (at this time)
289. a gust of wind elicits praise and giggles
288. parents are so magnificent, especially with little ones
287. my baby actually leans forward with an open mouth for more food
286. grace overpowers a condemning heart
285. texting can be quite helpful at times
284. when my hubby relates to me and understands
283. mistakes that are easy to fix
282. big salads with lots of veggies (and raisins)
281. printers with multiple functions
280. one thing at a time for these two hands
279. counting the cost of following Jesus
278. reading about the humiliation my persecuted brethren endure, such as being urinated on the head or swallowing your offender's phlegm, and interceding with a heavy heart
277. rendezvous
276. I have access to the Bread of Life and need never go hungry
275. my hubby returns home safely
273. life is not an emergency, life is not an emergency, repeat
272. making lists and getting things out of my mind and onto paper
271. marking off items on my to-do list
270. the crazy joy that wells up when you learn of new life in your family
269. my brother's last year in his 20's
268. slow Sundays
267. opening Google reader and my unread items is in the single digits (yay!)
266.
saying no to the oh-nos
really does work for me
265. grace conquers guilt, every time - if you embrace it
264. when an overtired baby gives up
263. there is no room for fear where faith resides
262. the hope and expectancy of the unknown
261. new beginnings of a new career
260. the freedom to be me and not having to perform
259. free gelato, shared over late-night chess
258. rearranging and organizing what I've been postponing
257. God takes pleasure in me even when I am immature or weak
256. sleepers with grippy feet
255. calligraphy is so fascinating, curly, dreamy
254. staring off into space, whenever, wherever
253. licking the food off of my baby's face
252. stilling to hear your own rhythmic breathing
251. when the sun makes something glisten
250. people all around the world are connected through media
249. twirls and swirls and whirls
248. living in a city that is not equipped for winter's weather
247. feeling my hubby's clean-shaven face
246. what works is not what was planned
245. warm dinners, even if it's beans and rice
244. organizing feels satisfying
243. when I go out without my baby, all I do is stare at other babies
242. days of "nothing" but breathing
241. pictures of snow blanketing hills
240. the Holy Spirit illumines and connects thoughts
239. grace for forgetfulness
238. mosaic-ed anything
237. when things arrive sooner than expected in the mail
236. feeling excitedly anxious
235. being back in your own bed
234. conversations can increase closeness and bonding
233. the board game
Settlers of Catan
232. no matter what time it is, it could always be later
231. blackout shades
230.
this book
that I am reading is full of mysteries
229. 2010 is memorable
228. rubberwood is amazingly durable
227. touching noses with my hubby
226. auxiliary heat warming my cold bones
225. running into friends
224. the first snow that kisses my baby's cheek
223. trusting in Jesus means that joys are always to be had
222. priorities help order and sanity
221. caller ID
220. Christmas villages on the tops of pianos
219. my hubby lets my occasionally take back a move during a chess match
218. pills in bottles sound like maracas
217. the piece of popcorn in the bottom of the bowl that is saturated in butter
216. there are
great ideas for old Christmas cards
215. the unexpected and unnecessary gifts, like a cute hat
214. hearing my hubby jingle when he walks wearing his elf hat
213. watching my brother scratch my baby's back to her pleasure
212. squashing pressure's demands
211. weird holiday hours that equates to changes in the daily
ho-hum
210. covers and blankets make me giddy
209. when I blush with embarrassment
208. the fun jingle of bells
207. there is something soothing about dusk
206. nursing is easy, cheap, and clean
205. warm water on cold hands
204. tasks that take less time than allowed
203. gifts given without strings attached (metaphorically)
202. searching for the end of a fat, vivid rainbow
201. my hubby patiently answers my questions
200. my baby likes to be physically close to Mama
199. there is just enough
198. putting a read book back on the shelf
197. not feeling rushed
196. feeling rushed
195. when my hubby readily agrees to cook dinner
194. when I hold my breath to hear the raw quietness
193. the lone red leaf that clings to the otherwise naked cherry tree
192. watching clouds race
191. the veil has been lifted from my eyes, my mind, my heart so that I can understand and receive the Word of God into my heart
190. that in-between time when the seasons change
189. when a smile is enough
188. my new nursing bra doesn't hurt
187. the relief that comes when something that you want to be over is indeed over
186. watching my hubby's face light up when he wins a card game
185. I just get such a kick from how bad my drawing is!
184. when an expectation goes unmet
183. when an expectation is met
182. family read-alouds for the holy-days
181. burlap sacks are cute, in a very rustic way
180. giving thanks truly lightens my load -- physically and mentally, too
179. my baby's pensive look as she tries to figure something out
178. not rushing through a meal
177. when the weekend comes and I realize that I made it through another week
176. belly laughs that keep you from breathing
175. short work weeks
174. online shopping
173. enjoying fellowship and praying with others after church
172. a baby will cry upon hearing another baby cry
171. the way bunnies hop so lightly
170. my husband likes watching me cry and drawing attention to it
169. when the crawling baby chases the running toddler
168. my niece gave me my first-ever, voluntary hug from her
167. He shows up or gives answers always at the right time
166. just the right tools are found in your house, no purchase necessary
165.
this riveting read that is autobiographical but as addicting as fiction
164. prayers and letters for the Persecuted Church
163.
I was made for eternity
162. the predictable, happy ending of most movies
161. my heart smiles when my baby unearths another tooth
160. my husband shares his warmth
159. the peppermint flavor, added to food, products, tea, scents...
158. stores that sell, legitimate, fairly-traded items
157. profound, last-minute thoughts
156. the way leaves twirl to the ground
155. stories that teach
154. there was life before cell phones
153. that I can get all the products I need to make my homemade hygienic items
152. how the baby giggles uncontrollably when I roar
151. that I have teeth
150. house parties for political campaigns
149. All Saints' Day, November 1st
148. when you find discounts that are something to talk about
147. babies just want your undivided attention, love, and play
146. when things seem worse than reality - phew!
145. crinkle toys
144. after Monday settles
143.
fat, screaming penguins
142. the many shades of fall, all together
141. stainless steel water bottles, with lids that you can open with your teeth
140.
Coconut oil is the greatest
- yummy and versatile
139. the pitter patter of my baby's hands on the floor
138. when our baby sleeps in the car
137. sheet layers in a crib
136. finding deeper truths in the simple
135. baby gibberish
134.
this fudge recipe
that is delicious, especially with added pecans
133. sudden expressions of affection that catch you off guard but are welcomed nonetheless
132. shadows cast by morning light
131. the sound of a gentle rain
130. insight gleaned from those who have traveled similar paths
129. there is no room for anxiety where faith resides
128. my husband (usually) understands me when I talk
127. anticipating reunions
126. retreats that refresh your soul and prepare you for the daily grind
125. when my baby crawls over to me
124. worth and acceptance are unrelated to behavior
123. when the weather is beyond ideal
122. reminders to go to God first
121. little boxes of raisins
120. God sees the me that is and the me that could be
119. picture frames hold memories and give smiles
118. past connections that reap present benefits
117. the glorious can invade the mundane
116. when the baby falls back asleep after waking
115. my firstborn's gender
114. spiders that don't get near you
113. the perfect outdoor temperature
112. I have an abundance of knowledge at my fingertips
111. the Spirit who helps me get over fickle feelings
110. I can say "no" to myself
109. for what is
108. public restrooms
107. carrying a backup blanket
106. leftover spaghetti is even better
105. speechless prayers
104. how my baby is excited to see me
103. our country still allows small farms to exist
102. jobs that provide benefits
101. how a new morning smooths out yesterday's rough edges
100. restaurants that stay open until 10 PM
99. airports allow you to carry on your own snacks (now, I'd like to bring my own water...)
98. a work delay
97. google is there when you have a problem
96. waterfalls in the pool for a free massage
95. borrowing the cousin's raft
94. Christmas lights on palm trees
93. when you realize that you didn't do it wrong
92. star-gazing without bugs
91. the privacy of a rooftop
90. cloudless skies without scorching heat
89. corny, cute Bible jokes
88. rewarding those you love with food
87. no one can stop prayer intercession
86. watching someone roll a Yahtzee
85. being able to catch the smell of nature even on asphalt roads
84. waking up to surprises
83. establishing new routines
82. receipts (how else would I keep track of our budget?)
81. the water bottle caps you can pull open with your teeth
80. that I have choices of what to read next
79. running water
78. when answers your needs without your help
77. living in the 'burbs
76. upside down looks and laughs
75. when football season starts
74. reuniting with our fellowship group
73. my baby's snot bubbles, believe it or not
72. soft, fuzzy, feathery hair
71. when you realize (Saturday night) that the weekend is not over
70. how books can grant insight from a person you'd never have known otherwise
69. when the wind strikes your face and your eyes close so as to enjoy it more fully
68. not taking games too seriously
67. an uninterrupted night's sleep
66. watching my niece walk
65.
the grace that is always enough
64. reading without distraction
63. when adults and babies interact
62. gleaning ideas from other people
61. this moment's stillness
60. books on tape (
specifically this one
)
59. genuinely surprising your spouse
58. consequences that are effective
57. watching young couples date
56. long Monday naps
55. grandmas who aren't timid of baby poo
54. shade from the heat of summer's sun
53. the crispy, crunchy coolness of fresh celery
52. morning dew that's not from rain
51. utter dependency of babies
50. being able to draw near His throne of grace to receive help in times of need
49. big, revealing yawns
48. watching the sky change colors as the sun rises
47. the morning perk when it finally hits
46. the untraversed canvas of tomorrow
45. when old acquaintances collide unexpectantly
44. recalling Scripture from memory in trials
43. hope can sustain
42. bizarre situations that make you laugh
41. how daisies seem to smile
40. deep breaths
39. imperfections increase humility
38. wanting and needing to pray
37. limited knowledge
36. baby bonnets
35. the feel of a naked, sleeping baby on your chest
34. long stems on flowers
33. adrenaline kicks in when needed
32. inhaling the scent of a clean baby
31. soft crying that doesn't leave headaches
30. when a growing baby's legs dangle over the Boppy
29. immediate energy from nuts
28. being able to talk about my niece
27. when diaper changes are uneventful
26. setting back-up alarms
25. flights that leave on schedule
24. the simplicity of no technology
23. the richness of silence
22. how clear your mind gets after a rain
21. sharing my thoughts with my non-judgmental, trustworthy husband
20. cloud coverage on a hot summer's day
19. curry spice
18. skype
17. ability to read
16. "Mama'a milk" mustache on baby
15. adorable, soft, white baby shoes
14. the relief found after a trial
13. natural light through windows
12. generous neighbors
11. squishing baby chub
10. sharing blankets
9. black pepper seasoning
8. a child that looks at you and smiles
7. all-day birthday celebrations
6. hand-me-down baby clothes
5. smoothies take care of over-ripe bananas
4. stevia can be found in liquid and powder
3. clean, clear water
2. the warm breeze that is only to be had while moving
1. moonlight that rivals sunlight
Give thanks in all circumstances, for this is God's will for you in Christ Jesus.
1 Thessalonians 5:18